HOT OFF THE PRESS FROM NEWLAITHE

We are Kennel Club Assured Breeder's with the Accolade of Excellence
(This Accolade is only held by a handful of Boxer Breeders and is for our significant contribution towards our Breed)


As at July 2014 we are one of two Breeders in the entire Yorkshire Area to have had a successful inspection carried out to standards
assessed by the United Kingdom Accreditation Service (UKAS)
These standards were formally introduced in January 2013 and only Kennel Club Assured Breeders that have completed a successful visit
since that date are issued with a UKAS Certificate
We are the ONLY Breeders in the entire of Yorkshire to hold the Accolade of Excellence


See our Facebook Page Here




WOW at The Boscars 2015 Newlaithe had fantastic wins
Best Opposite Sex Boscar - CH Pure Faith
Best Handler 2014 Boscar - Vikki Van-Beck
Most Helpful to Newcomers 2014 Boscar - Vikki Van-Beck
In the afternoon we also collected the BQ Top Dam award for Pure Illusion &
CH Pure Faith CBC Runner-Up Top Bitch - pictures & more Here

Australian Supreme Champion Targeted by Newlaithe (Imp UK)
Wins his FIFTH Boxer Specialty Best In Show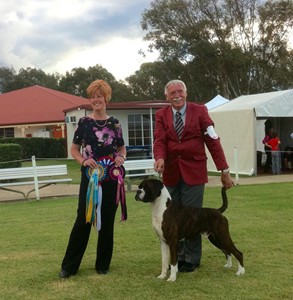 Pictured here with UK Specialist Judge Mrs Sue Drinkwater (Sulez)

As we come to the end of yet another year what a fabulous 12 months we have had!
We have notched up 14 Green Cards in total
7 CCs to which 4 came from CH Pure Faith, 2 from Dooglebug JW and 1 from Pure Target JW
and 7 Reserve CCs to which 2 came from CH Pure Faith, 1 from Magic Wand, 1 from Pure Target JW, 2 from Very Attracted (for John & Veronica)
and 1 from Fast n' Furious for Sarah
This included the Bitch CC and Reserve Best of Breed at CRUFTS and the Double (Dog & Bitch CC) at Border Union
With our Show Team winning so well throughout the year this has resulted in 4 dogs qualifying for the prestigious DOTY in February
(Top 12 winning Dogs & Bitches for the year) - Dooglebug JW, CH Pure Faith, Pure Target JW and Leonardo JW
Leonardo JW has also qualified for POTY (Top 12 winning Dogs & Bitches for the year in Puppy classes only)
It has also been confirmed that CH Pure Faith is the Runner-Up Top Winning Bitch for 2014
WHAT A YEAR - Here's to 2015!

INTRODUCING NEWLAITHE DOOGLEBOX
Newlaithe Dooglebug JW x Newlaithe On Design JW
Who is now proudly owned and adored by Barbara Tan in The Philippines
We look forward to watching 'Buggy's' show career and wish you all the best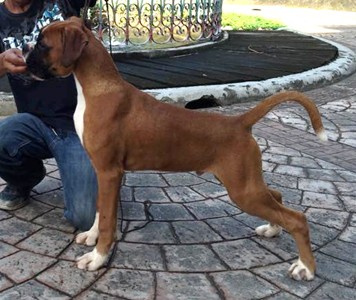 NEWLAITHE WINS THE 'DOUBLE' AT BORDER UNION JUNE 2014
What a Day thanks to our Judge Miss Vicky Bell (Surfstone)
Newlaithe Dooglebug Dog CC and CH Pure Faith Bitch CC & Best of Breed
We have previously achieved the Mini-Double with CH On Target and CH Just Stunning both winning the Reserve CC at
Birmingham National under Mr David Spencer
The Dog CC with Very Attracted to Newlaithe and the Reserve Dog CC with CH Newlaithe On Target at The Cotswold CH Show
Then the CC and Reserve CC with CH Pure Faith and Magicians Wonder at Birmingham National under Goran Bodeguard
Now we have achieved the ultimate both CCs on the same day - just fabulous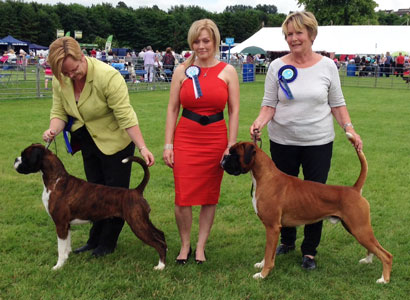 CH Sezflo Pure Faith, our Judge Vicky Bell and Newlaithe Dooglebug JW

CHAMPION NEWLAITHE ON TARGET JW ShCM 5CCs 8RCCs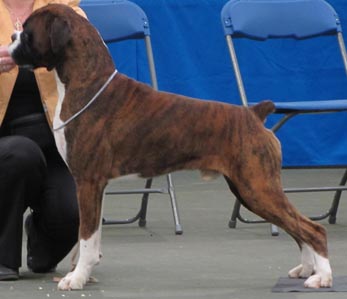 The Sire of CRUFTS 2014 Bitch CC Winner and Reserve BEST OF BREED
CHAMPION SEZFLO PURE FAITH BY NEWLAITHE 7 CCs & 5 RCCs
And her younger repeat litter sister Pure Target takes second in a super Yearling class
Their Dam is Pure Illusion over Newlaithe (a Conjuror daughter)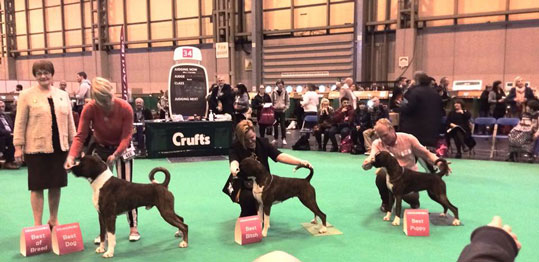 Pure Faith's litter-brother is
AUSTRALIAN SUPREME CHAMPION TARGETED BY NEWLAITHE over 100 CCs
The Number ONE Boxer in the entire of Australia 2013 AND 2014
Sire CH Newlaithe On Target JW ShCM (5CCs 8RCCs) and Dam Pure Illusion over Newlaithe (1CC)
What an achievement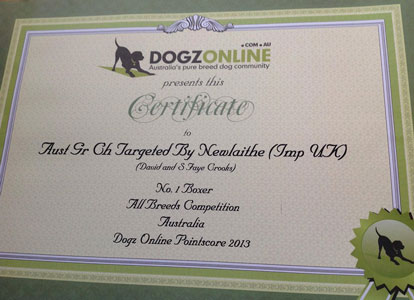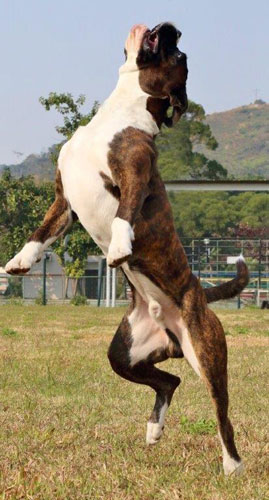 This is Teddy who we exported to Hong Kong as a 12-week old puppy
The photo is taken by Irene, who owns Teddy along with her husband Willi
Irene is a Photographer and has recently published a Photography & Travel Book called "The Charm of Tai O" documenting her work in the
Tai O Fishing Village which is where Irene's Gallery is based - More details available Here

NEWLAITHE'S TENTH UK CHAMPION
Sezflo Pure Faith by Newlaithe (Millie) takes her crowning CC at Working & Pastoral Scotland under Mrs Marion Campbell (Southern Ireland)
Boxers had the largest entry over both Groups and it was Millie's first time in Open as she had won her way out of Limit
Millie will now be know as
CHAMPION SEZFLO PURE FAITH BY NEWLAITHE
Millie is sired by CH Newlaithe On Target JW ShCM 5CCs 8RCCs, her Dam is Pure Illusion over Newlaithe 1CC who is a Conjuror daughter
We are very proud here at Newlaithe

Overseas News - 'Target' has achieved the highest award possible - he will now be known as
AUSTRALIAN SUPREME CHAMPION TARGTED BY NEWLAITHE
What an achievement!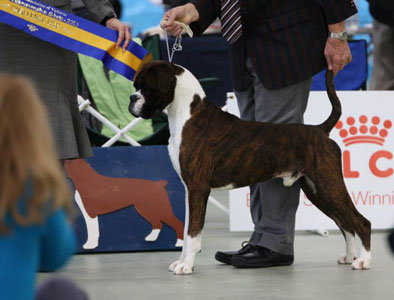 Newlaithe Dooglebug (Bugsy) wins his final 3 points required for his Junior Warrant (subject to KC confirmation) at Leeds CH Show
All his points have been awarded in Puppy - we are over the moon
He will now be known as Newlaithe Dooglebug JW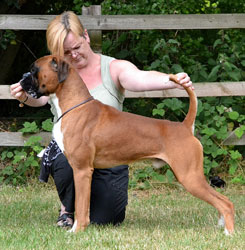 Our latest Boxer Quarterly advert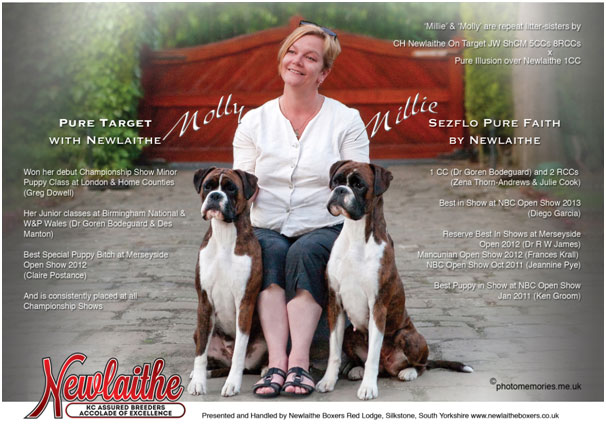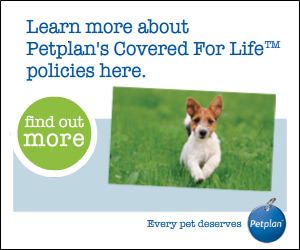 Click Here for further details

We are very proud of Annie & Martin Dickson's 'Willow' who now lives in Belgium
Willow made the Top 40 for the new PetPlan advert currently being shown on TV
(From almost 30,000 entrants!)
Willow is sired by CH Jedna na Milion Manolo and her Mum is Seize The Moment from Newlaithe
Look out for the beautiful Red & White Boxer!!




June 2013 - our new Logo has been designed by




Thanks to Dave & Faye Crooks of Tyeanbo Boxers we are just so proud to present


AUSTRALIAN GRAND CHAMPION TARGETED BY NEWLAITHE


We received the news on April 20th 2013 that Target had achieved his Grand Champions Title
We are over the moon to say the least!



CH

Newlaithe On Target JW ShCM
Dog of the Year 2013


CBC's THIRD TOP MALE 2013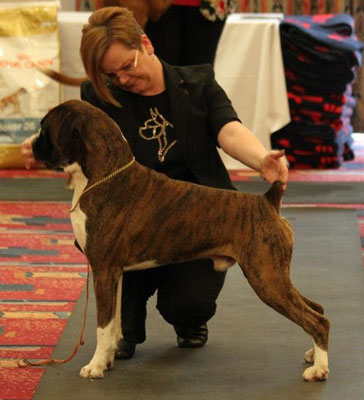 Photo courtesy of Richard Laidlaw



Newlaithe On Design has not only ended 2012 as Our Dogs Top Boxer Puppy Winner but also
BOXER QUARTERLY's Top Puppy


Newlaithe has another NEW Overseas Champion


Australian CH

Opportunity Knocks from Newlaithe

CH Burnden Opportunist x Newlaithe Game On at Farfield
Huge Congratulations to Brian & Sue in Australia


Newlaithe have a NEW Overseas Champion


USA CH

Newlaithe Enchantment

Faerdorn Conjuror at Newlaithe x CH Designed For Looks by Newlaithe
Huge Congratulations to Sandie in the USA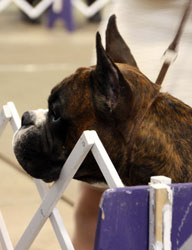 Louie Lila at Newlaithe (12 Years Young) watching over her Great-Great Grandchildren having a quick guzzle
She then tells them some words of wisdom so they are equipped for the world!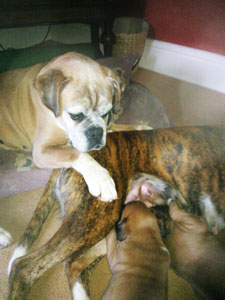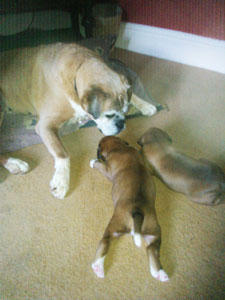 Our Kennel Club Assured Breeder's Accolade of Excellence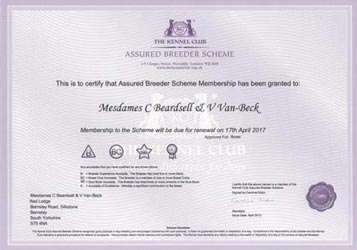 Check our 'Diesel' (Conjuror) opening one of his presents - notice how he's not really interested in the contents just the paper!!
And Daisie (Designed for Looks) watches on ...... (Its a bit long but worth watching!!)

CH Holly Lucky Lady at Newlaithe ends 2011 as Top Bitch in Malta and her son Top Dog
Well Done to The Stafrace family for another successful year

Very Attracted to Newlaithe and CH Newlaithe On Target JW ShCM
win the Dog Challenge Certificate and Dog Reserve Challenge Certificate at The Cotswold Boxer Club CH Show 3rd December 2011
this being Newlaithe's 100th and 101st Green Card

CH Newlaithe Just Stunning ShCM
wins the Reserve Bitch Challenge Certificate at London & Home Counties Boxer Club 22nd October
from Veteran at 8 years old

Magic Wand over Newlaithe
owned and handled by Claire Coyne, wins the Bitch Challenge Certificate at The Trent Boxer Club
1st October - this being Newlaithe's 50th Challenge Certificate

* * *
Our Boxer Stud Dogs produce quality Boxer puppies and have excellent pedigrees to match
On Target is our leading Boxer Stud Dog - his progeny currently in the show ring already proving what an excellent sire he is with
multiple Crufts Qualifications an Australian SUPREME Champion achieving his crown at just 12 months old and a UK Champion
INLCUDING CRUFTS Reserve Best of Breed 2014

All our Boxers are Heart Tested, live in the house and first and foremost are our beloved family pets
For details regarding the Breed please visit The Northern Boxer Club where the Breed Standard is available
Advise if a Boxer is suitable for you and your family is available on request
Please call or e-mail us - we are only too happy to assist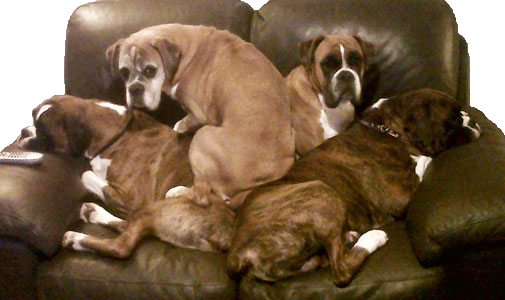 A typical evening ....
(Left to Right) Conjuror, Louie Lila DOM and Dam of CH Just Stunning and CH On Target

Just an insert found on Dog Showing which is so true ... Are you cut-out for Dog Showing?
It is a relatively serious hobby with large demands on time and effort. Many people involved in dog showing literally spend every weekend driving
up and down the country to attend shows and are undaunted by the amount of grooming and preparation involved or having to show
their dogs outdoors in all weathers
Do you have the right attitude for Dog Showing? It is a hobby where you can lose as often as you win and a lot can depend on the arbitrary opinion of a judge!

We are founder members of The Kennel Club's Assured Breeder Scheme and achieved the Accolade of Excellence at the beginning of 2012
This has only be attained by a handful of UK Boxer Breeders
An achievement we are very proud of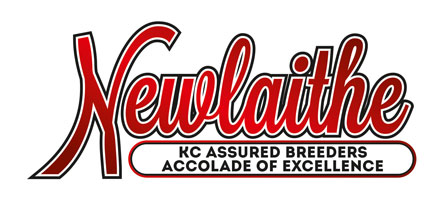 We have show winning Dogs Bred or Sired by Newlaithe in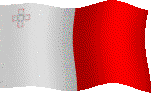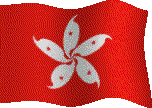 See both our Results and ShowTeam page for full details

CH Newlaithe Just Stunning ShCM
Top Red Boxer 2008, Runner-Up Top Winning Red Bitch 2009
Top Bitch - Cotswold Dog of the Year March 2009
Best Opposite Sex - Cotswold Dog of the Year March 2009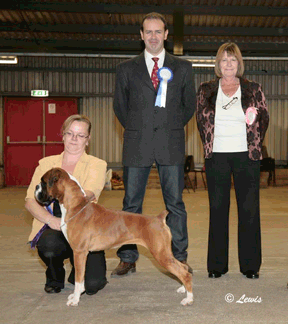 Pictured here winning her 5th CC and Best in Show at The Trent Boxer Club Championship Show - Oct 2008
Judge (Bitches) - Mr A Palacin, Spain (Joint BIS Judge - Mrs Lesley Wearing, Miofrey)

CH Designed for Looks by Newlaithe
Runner-Up Top Bitch 2007 & Top Winning Red Bitch 2009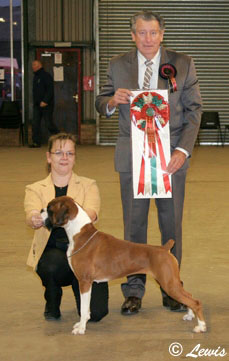 Pictured here winning her 5th CC and Best in Show at The Anglian Boxer Club Championship Show
Judge (Bitches) - Mr Peter Foster, Boxhaven, Australia (Joint BIS Judge - Mrs Sagra Tonkin, Tonantron)
CH Newlaithe Look At Me
CRUFTS 2005 Best of Breed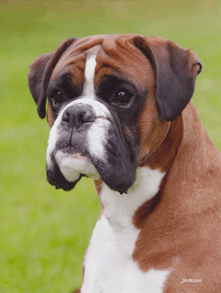 (Photo by J Jackson)
Please see
Newlaithe's History
section for the full story behind Newlaithe Boxers
Over the years we have made 9 of our dogs into Champions including the
Top Bitch 1971,
Top winning Red Bitch in 2008
and
Top Bitch 2009
We have exported many puppies over the years, one Boxer Puppy we exported to Hong Kong became
Top Dog of All Time in HK
(still is to this day)
and another to
South Africa
who won
24 Challenge Certificates
In 2010 & 2011 we have exported three exciting puppies to Australia - see our
Show Team
for further details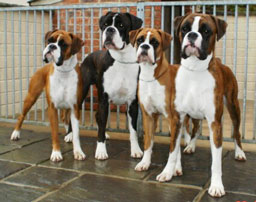 We are situated in Silkstone, Barnsley, South Yorkshire (just off the M1)

Our Boxer Dogs at Stud available are
Faerdorn Conjuror at Newlaithe (HT 0),

CH

Newlaithe On Target JW ShCM (HT 0/1), Newlaithe Conjured Design (HT 0) and
coming soon Newlaithe Dooglebug - Available to approved bitches only
All produce
Quality Boxer puppies
(Conjuror, Conjured Design, On Target and Manolo produce Reds and Brindles) - All have superb pedigrees
Quality Boxer Puppies sometimes available - genuine enquiries welcome
As Mother and Daughter team we have Championship Show Winning Boxer Dogs, quality producing Boxer Stud Dogs,
quality Boxer Puppies sometimes available, have had Champions since 1970, CRUFTS 1st Prize winners and

CRUFTS Best of Breed 2005
Newlaithe's winning Brace Team for 2006
CH Just Stunning and CH Designed for Looks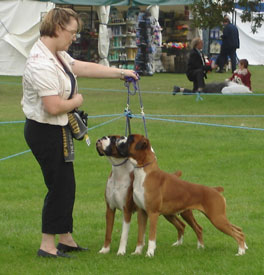 With over 50 years experience in this special breed of dog - we pride ourselves in our aftercare service for puppy purchases,
bitches who have been mated (throughout their pregnancy up until the sale of their puppies) and any general information required

We strive year on year to qualify our Show Team for CRUFTS - you will see on our Show Team Page that most were qualified for 2007 but we did not show our team
this was because Christine had been given the great honour of judging the Dogs at CRUFTS 2007 alongside co-Judge Mr Arthur Butters
Christine on the morning of her prestigious judging appointment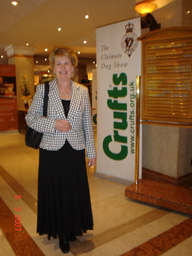 © Newlaithe Boxers 2015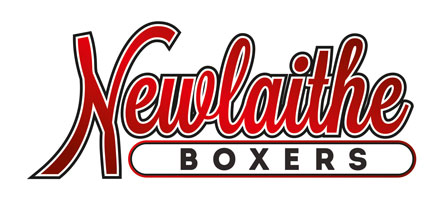 All rights reserved
No pictures on this web-site can be copied or used for any reason unless written authorisation is given by Newlaithe Boxers