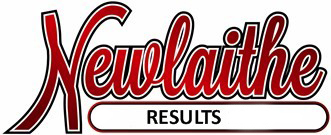 Our past results
2016 2015 2014 2013 2012 2011 2010 2009 and earlier

JUNE

18th June - Border Union CH Show
Judge: Clare Kay
Only 2 dogs entered today - easy day!
Newlaithe Bug On JW third in Limit
Lanfrese Suits Newlaithe third in Minor Puppy
Other owners with their Newlaithe dogs
Newlaithe The Fugitive ShCM VHC in Post Graduate

10th June - Three Counties CH Show
Judge: Carol Green
Newlaithe Wheels On Fire wins Puppy Dog, Best Puppy Dog and
Best Puppy in Breed
Newlaithe Gingernut JW third in Yearling
Britesparke Luna Moonbug reserve in Post Graduate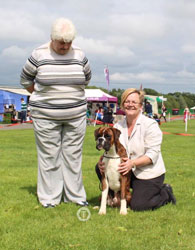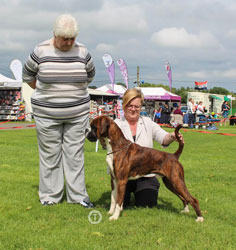 Something different for a change!
A day at the beach with most of the 'family' and Sarah with her two boys....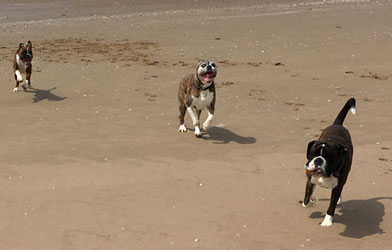 Oliver, Boyd & Fergus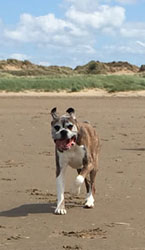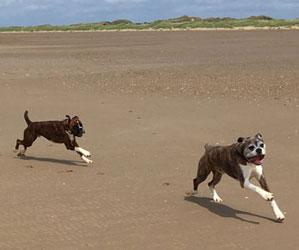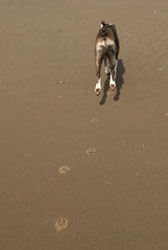 Boyd having a ball, Oliver chasing Boyd & Boyd leaving his prints behind ....
To see a few videos of the day click HERE

3rd June - Southern Counties CH Show
Judge: Karl-Erik Johansson (Sweden)
Britesparke Luna Moonbug wins Post Graduate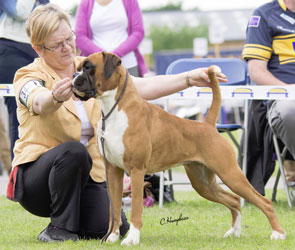 Luna winning her class at Southern Counties

MAY

30th May - Boston & District Canine Society Open Show
Judge: Richard Kinsey
Lanfrese Suits Newlaithe second in Puppy
Newlaithe Wheels On Fire wins Junior
Newlaithe Bug On JW wins Open and Best of Breed

21st May - SKC
Judge: Mick Gordon
Lanfrese Suits Newlaithe VHC in Minor Puppy
Newlaithe Gingernut JW second in Novice
Britesparke Luna Moonbug wins Post Graduate
Other owners with their Newlaithe dogs
Newlaithe The Fugitive ShCM third in Post Graduate
Newlaithe Dream on Daltamie VHC in Novice

20th May - The Scottish Boxer Club CH Show
Judges: Tommy Dahlstrom (Dogs) and Theo Horchner (Bitches)
Denise Mastaglio (Best in Show)
Newlaithe Wheels On Fire second in Puppy
Newlaithe Bug On JW won Mid-Limit
Newlaithe Leonardo JW third in Limit
CH Newlaithe Dooglebug JW won Open
Lanfrese Suits Newlaithe VHC in Minor Puppy
Newlaithe Gingernut JW third in Novice
Britesparke Luna Moonbug wins Post Graduate
CH Pure Target reserve in Open
Delighted in the Challenge Father (Dooglebug) & Son (Bug On) were in the final 3 with CH Newlaithe Dooglebug JW
winning the Dog CC and Reserve Best in Show
Best in Show went to Dooglebug's daughter CH Vandenrob Nina Roche at Glenauld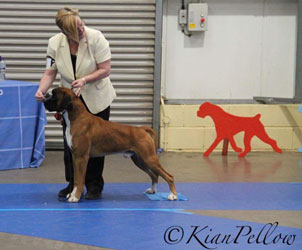 CH Newlaithe Dooglebug JW in the Dog Challenge line-up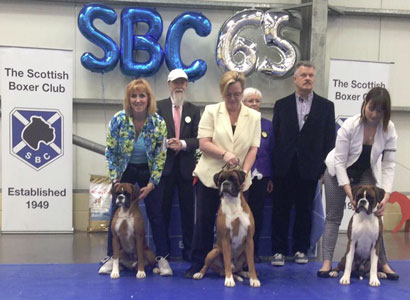 CH Vandenrob Nina Roche at Glenauld (Best in Show) her Sire CH Newlaithe Dooglebug JW (Reserve Best in Show)
and the Best Puppy in Show winner

14th May - Ridings & District Canine Society
Judge: Chris Godfrey
Just heard the fabulous news that Lee with Newlaithe Dream Dragon not only won his class went on to win
Best in Show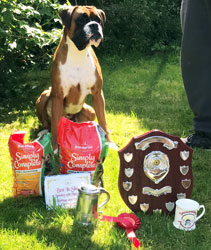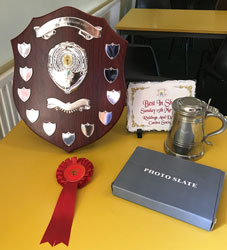 Congratulations to Lee and of course Duke

13th May - Tyne, Wear & Tees Boxer Club CH Show
Judge: Pedro Bispo (Portugal) Dogs and Carol Schofield (Bitches)
Newlaithe Leonardo JW reserve in Open
Britesparke Luna Moonbug reserve in Post Graduate
CH Pure Target JW VHC in Open
Other owners with their Newlaithe dogs
Newlaithe The Fugitive ShCM VHC in Post Graduate
Newlaithe Dream on Daltamie second in Novice

6th May - Birmingham National
Judge: Nikki Cannon
Newlaithe Wheels On Fire VHC in Puppy
Newlaithe Bug On JW reserve in Mid Limit
Lanfrese Suits Newlaithe second in Minor Puppy
Britesparke Luna Moonbug second in Post Graduate
Other owners with their Newlaithe dogs
Newlaithe The Fugitive ShCM second in Post Graduate
Newlaithe Milion To One Treju wins Novice
Newlaithe Fire Bug third in Post Graduate (Crufts 2018 qualified)

APRIL

28th April - WELKS CH Show
Judge: John Cormack
Newlaithe Wheels On Fire reserve in Puppy
Newlaithe Leonardo JW third in Open
CH Pure Target VHC in Open
Other owners with their Newlaithe dogs
Mejeric Mantao Glo from Newlaithe third in Yearling (Crufts 2018 qualified)
Newlaithe The Fugitive ShCM VHC in Post Graduate
Newlaithe Seal Of Approval for Chribanna reserve in Puppy


22nd April - White Rose Canine Open Show
Judge: Gary Pearce
Lanfrese suits Newlaithe second in Puppy
Newlaithe Bug On JW first Open and Best of Breed

Delighted to hear that CH Newlaithe On Target JW ShCM has sired another Champion
Irish CH Benton Code Red, litter sister to the already crowned Irish CH Benton Back Track
Huge congratulations to Tony & Paula - Benton Boxers



16th April - The Merseyside Boxer Club CH Show
Judges: Paul Harding (Dogs) and Robert Vanston (Bitches)
Newlaithe Wheels On Fire third in Puppy (Crufts Qualified 2018)
Newlaithe Leonardo JW reserve in Open
Lanfrese Suits Newlaithe reserve in Minor Puppy
Newlaithe Gingernut JW third in Junior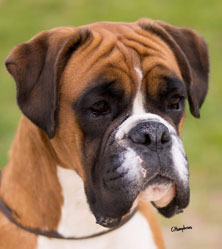 Britesparke Luna Moonbug first in Post Graduate
CH Pure Target reserve in Open
Other owners with their Newlaithe dogs
Newlaithe The Fugitive ShCM VHC in Post Graduate
Newlaithe Dream Dragon VHC in Junior

15th April - Working & Pastoral Wales CH Show
Judge: Paul Lawless
Newlaithe Wheels On Fire reserve in Puppy
Lanfrese Suits Newlaithe reserve in Minor Puppy
Newlaithe Gingernut JW second in Junior
CH Pure Target second in Open
Other owners with their Newlaithe dogs
Newlaithe The Fugitive ShCM second in Post Graduate

9th April - The Northern Boxer Club CH Show
Judges: Jeannine Pye (Dogs) & Paul Harding (Bitches)
Newlaithe Wheels On Fire reserve in Minor Puppy
Lanfrese Suits Newlaithe VHC in Minor Puppy
Newlaithe Gingernut JW second in Novice
Other owners with their Newlaithe dogs
Newlaithe The Fugitive ShCM third in Post Graduate
Newlaithe Milion To One Treju VHC in Junior
Newlaithe Fire Bug third in Novice
Newlaithe Dream On Daltamie third in Debutante

MARCH

26th March - Essex & Eastern Boxer Club CH Show
Judges: Liz Cartledge (Dogs) & Frances Krall (Bitches)
Newlaithe Bug On JW reserve in Limit
CH Newlaithe Dooglebug JW reserve in Open
Lanfrese Suits Newlaithe reserve in Minor Puppy
Newlaithe Gingernut JW third in Junior
Britesparke Luna Moonbug first in Post Graduate
CH Pure Target with Newlaithe JW VHC in Open

16th March - The Boscars
Click HERE for further information

12th March - CRUFTS
The greatest Dog Show in the world (not!)
Judge: Sue Drinkwater
Newlaithe Bug On JW reserve in Mid-Limit
Newlaithe Leonardo JW reserve in Limit
Britesparke Luna Moonbug (handled by Newlaithe) won Post Graduate (the largest class of the day)
Other owners with their Newlaithe dogs
Newlaithe The Fugitive ShCM second in Good Citizens
On Fire VHC in Good Citizens

4th March - Wath & West Melton Canine Society
Judge: Tan Nagrecha
Newlaithe Wheels On Fire third in Junior
Newlaithe Bug On JW won Open, Best of Breed and Working Group 3

Taken some time to update I'm afraid but things are settling back down now

FEBRUARY

26th February
A desperately sad day here at Newlaithe as we said goodbye to our beautiful Golden Oldie
CH Galicar Designed For Looks by Newlaithe, better know as Daisie May
Daisie would have been 13 in June - we are just devastated
Not only did she win several CCs & RCCs, she produced Redesigned the Dam of CH Dooglebug and
On Design JW who produced Bug On JW and our latest promising puppy Wheels On Fire
Only a couple of weeks ago Daisie May enjoyed running around the paddock with the 2 youngsters
RIP my absolute gorgeous girl
13th June 2004 - 26th February 2017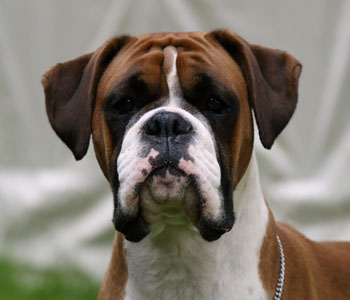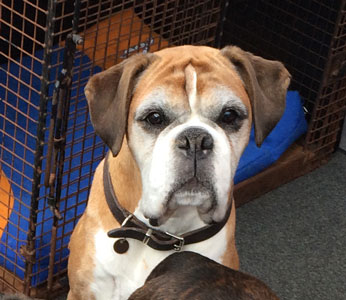 11th - The Midland Boxer Club CH Show
Judge: Val Jordan (Dogs) and Uwe Werner (Bitches)
Newlaithe Milion Dreams third in Novice
Other owners with their Newlaithe dogs
Newlaithe Milion To One Treju wins Junior
Newlaithe The Fugitive ShCM third in Post Graduate

5th - The Merseyside Boxer Club Open Show
Special Event Judge: Liz Rankin
Newlaithe Wheels On Fire first Special Puppy 6-8 Months
Newlaithe Gingernut JW second Special Junior 12-15 Months
Open Show Judge: Marion Sargent
Newlaithe Wheels on Fire wins Minor Puppy, Best Puppy Dog and BEST PUPPY IN SHOW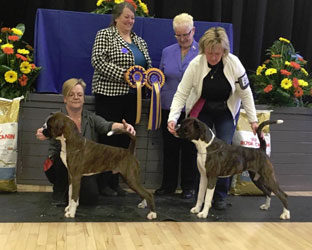 Newlaithe Wheels On Fire (Oliver) Best Puppy in Show
Newlaithe Bug On JW wins Limit
Newlaithe Gingernut JW second in Junior
Newlaithe Milion Dreams second in Novice
Other owners with their Newlaithe dogs
Newlaithe Trojan for Treju wins Open
Newlaithe The Fugitive ShCM second in Open
Newlaithe Milion To One Treju wins Special Puppy 10-12 months and second in Puppy

JANUARY

21st - Manchester CH Show
Judge: Dr Ron James
Newlaithe Wheels On Fire first Minor Puppy Dog (18 entries)
Newlaithe Bug On JW VHC in Limit
CH Newlaithe Dooglebug JW VHC in Open
Newlaithe Gingernut JW reserve in Junior
Magic Wand third in Limit
Newlaithe Seal Of Approval for Chribanna reserve in Minor Puppy

14th - Anglian Boxer Club CH Show
Judge: Mrs Julie Cook (Manic)
Newlaithe Gingernut JW VHC in Junior
Magic Wand VHC in Limit
CH Pure Target third in Open
Lanfrese Suits Newlaithe took her first Puppy Walk all in her stride



Litter mates - L-R Jessica (Lanfrese Suits Newlaithe), Lanfrese Calvaro & Lanfrese Cushty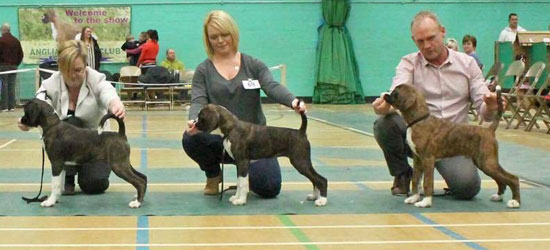 5th - Boston & District CH Show
Judge: Mrs Margaret Cook (Emjaycee)
Newlaithe Bug On JW second in Open & Reserve Best Dog
CH Pure Target with Newlaithe JW wins Open, Best Bitch & Best of Breed
Newlaithe The Fugitive ShCM second in Post Graduate, Post Graduate Stakes winner and 3rd in Good Citizens Stakes

Click on the links below to see all our past results
Archived Results 2016
Archived Results 2015
Archived Results 2014
Archived Results 2013
Archived Results 2012
Archived Results 2011
Archived Results 2010
Archived Results 2005 - 2009