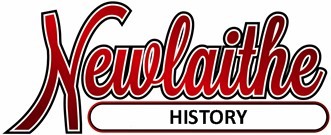 We originally established NEWLAITHE BOXERS with a Bitch sired by Avonbard Othello, Great Grandson of Axel Van Ban Oey and the great Frolich Von Dom out of a Wardrobes bred bitch from CH. Justice and Wardrobes Silver Spurs. Both my late husband and myself had a love for Boxers from day one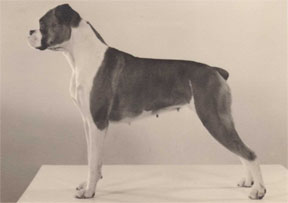 We were extremely fortunate in producing a Champion out of the third litter of the foundation bitch; however, in the early years one or two other bitches had been purchased in an endeavour to produce winning stock. CH NEWLAITHE ARIADNE was destined to set a new standard of Boxer to aim for, taking seven CC's in succession in 1971, being a Group Winner and Runner Up for Best In Show All Breeds Championship Shows, and having the distinction of winning under Dutch, Italian, American, UK Variety and Specialist judges. Totaling 11 CC's making NEWLAITHE Top Bitch Kennel for 1971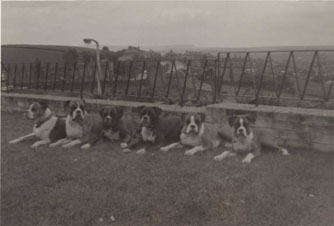 May 1969
Maisu, Sam, Sophie, Millie, Donna and Ariadne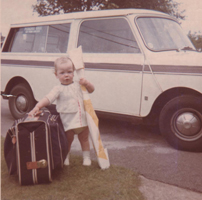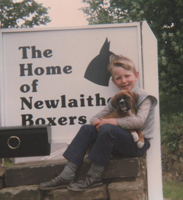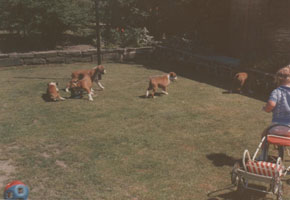 We went on to produce one of the best headed male Boxers in CH NEWLAITHE QUIBBLER - a struggle in his early showing - preferring home to the Show ring. He was the Connoisseur's Boxer, being very difficult to fault technically but not the extrovert that ARIADNE was NEWLAITHE ICARUS failed to take top honours but was Reserve CC at CRUFTS behind the World famous Marbelton Desperate Dan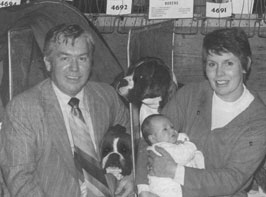 Patrick, Nestor, Quibbler, Christine and the latest edition to Newlaithe - Thomas!!
Driffield CH Show 1978

NEWLAITHE NESTOR, my favourite Boxer, failed to get his 3rd CC - probably because he was the same age as QUIBBLER and at that time we were showing all three males at every show. However, NESTOR did have many Best In Shows and also 70 Junior Warrant points (25 points qualifying for JW)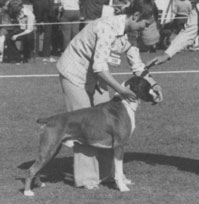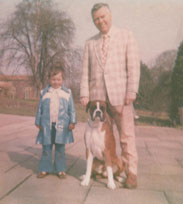 At this point in 1980 Progressive Axonopathy hit our breeding programme with ARIADNE and QUIBBLER being totally involved as genetic carriers, and they and their progeny were consequently withdrawn. NESTOR, however, was proven totally clear from the PA Gene and he and his offspring could progress

I was not a happy person at this time - our successful Kennel decimated and the less informed of Boxerdom thinking things the less informed think!

We went out to purchase overseas stock with which to re-build our Kennel. To that end CH JACQUET BRASS IMAGE was purchased together with a young Jacquet's male puppy and a Canadian Bitch from the Haviland Kennel - these imports helped re-establish NEWLAITHE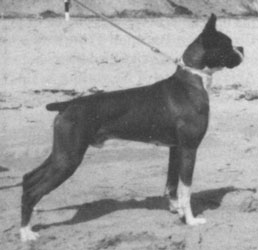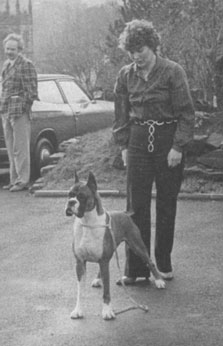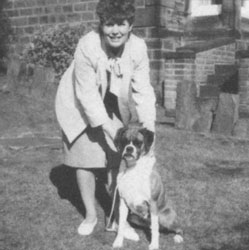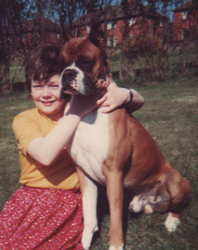 Major support came from Charles and June Walker and their Dutch imports and today I could not have rebuilt NEWLAITHE without LYNPINE help

CH NEWLAITHE MARIETTA was entirely Dutch/English bred. CH NEWLAITHE HOT FASHION is a complete composite of Dutch American and English breeding. In the mid 80's a son of the Canadian Haviland bitch became Hong Kong Champion NEWLAITHE GREAT SYSTEM being Top Boxer and Top Winning Dog of all time in Hong Kong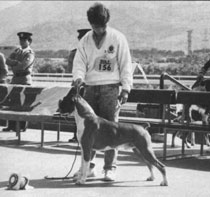 Both my late husband Patrick and myself are International Championship Show Judges - I have judged at that level since 1979, Patrick accepted his first appointment in 1990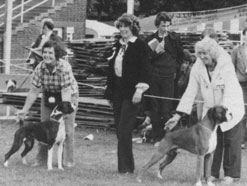 Christine's first CC judging appointment - Richmond 1979
| Christine posing for a Pet Plan Insurance promotion photo | Christine & Marion Granger co-owner of Newlaithe Great Stuff |
| --- | --- |

Patrick had been the Chairman of the second Premier Boxer Society in the UK, The Northern Boxer Club, for a total of 8 years and for 6 years had been honoured by being President. Patrick was also the Vice-Chairman (Chairman elect) of the UK Breed Council, up until his death in 1997. This is the body that as a consequence of its make-up from the 15 Boxer Breed Clubs - endeavours to care for the Breed in every respect. Patrick within Breed Council Chaired the "Code of Conduct" Committee and Chaired the "Judges Standard" Committee, this committee endeavours to produce a better-qualified judge for all levels of competition.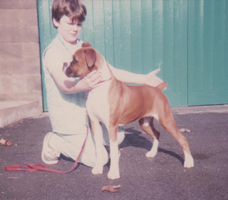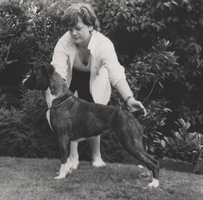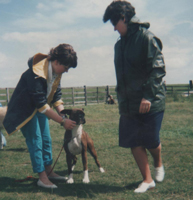 Sadly Patrick passed away in 1997, however the NEWLAITHE Affix continues to thrive now with VIKKI VAN-BECK (our daughter) re-joining the team; learning, showing and now even judging! We are both on The Northern Boxer Club's committee currently as Chairman (Christine) and Secretary & Treasurer (Vikki)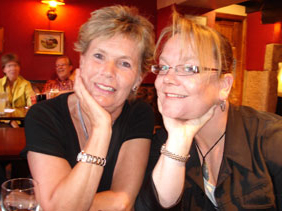 Christine & Vikki

Since 2006 we have successfully campaigned and achieved five UK CHAMPIONS
Designed for Looks, Look At Me, Just Stunning ShCM, On Target JW ShCM and Pure Faith
Have won numerous Best in Show, Reserve Best in Show, Best Puppy in Show and Reserve Best Puppy in Show awards at both Breed Club Shows and Championship Shows
Along with accumulating many Best of Breed, Best Puppy in Breed and Group Placings at All-Breed Open Shows and Championship Shows
In addition we won Top Red Kennel 2008, Top Red Boxer 2008, Boscars Top Bitch 2009, had the two Top Winning Red Girls in 2009 and not forgetting in 2006 unbeaten at Championship Show level in the BRACE class with our two Top Reds - Just Stunning and Designed for Looks!
Our

Champion

Boy On Target achieved third Top Winning Boxer of 2010 and Third Top Boxer 2013, his daughter Top Puppy 2012 and also his son is our first Newlaithe Australian

SUPREME CHAMPION

, who is owned, loved and campaigned by Dave & Faye Crooks (Tyeanbo Boxers, Australia). Litter-sister to our Australian Champion is Pure Faith achieved Runner-Up Top Winning Bitch in 2013

And not forgetting any Breeder's ambition


DOG CC & BEST OF BREED


Crufts 2005 with

CH

Newlaithe Look At Me
AND
BITCH CC & RESERVE BEST OF BREED
CRUFTS 2014 with

CH

Pure Faith by Newlaithe

We look forward to continued successful years with our beloved Boxers
In 2012 we achieved The Kennel Club's Top Award of


Assured Breeder - Accolade of Excellence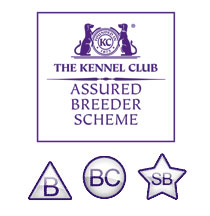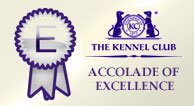 This is for our services to the Breed, impeccable time and effort in our breeding and having bred 5 or more UK Champions
An award only given to a handful of Boxer Breeders and one we are very proud of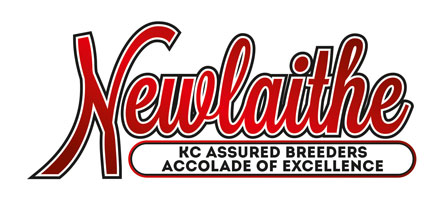 Other breeds and pets of Newlaithe from years gone by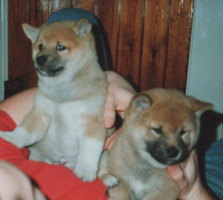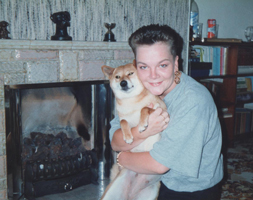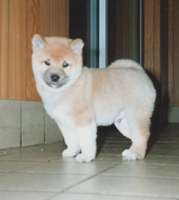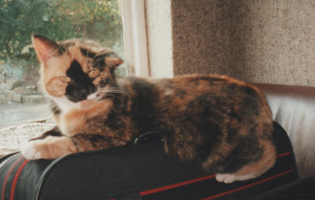 And not forgetting Newlaithe's transport!!!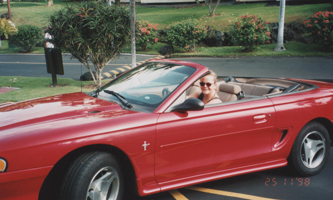 Not really - just a hire car for a week with Vikki at the helm!!!

© 2015 All Rights Reserved Newlaithe Boxers
No images may be taken/used from this web-site without written confirmation from Newlaithe Boxers